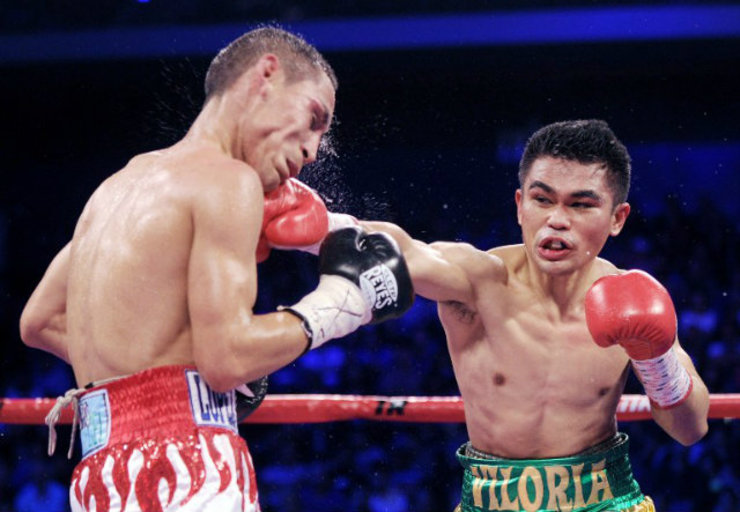 NEW YORK ― Filipino American fighter Brian "The Hawaiian Punch" Viloria, who is a three-time world champion, will challenge world flyweight champion Roman Gonzales of Nicaragua on October 17 at the Madison Square Garden in New York City.
Viloria's team has tapped Filipino WBO light flyweight champion Donnie "Ahas" Nietes as sparring mate to bolster his preparations for the bout against the Nicaraguan.

Viloria (36-4, 22 KOs), 34, a former US Olympics boxer, has won four fights in a row -- including a first-round knockout of Omar Soto on July 25 which prompted Top Rank to give him another title shot.

"I've fought and won on the world's biggest stages against the best of the best. I've prepared my whole life to win at every level of competition from world amateur titles to the Olympic Games to professional world titles," Viloria said. "And this fight against Roman Gonzalez is likely to be my biggest challenge yet. But it's Roman's biggest challenge too. This is the realization of my dreams and I will make the most of it on fight night."

"I applaud Roman for accepting this fight. Together we will give boxing fans something special -- something they can talk about for a very long time," the FilAm fighter said.

Gonzales (43-0, 37 KOs) remains undefeated and is considered as the number one pound-for-pound in his division.
Nietes himself will defend his title for the first time in the United States also on Oct. 17 against Mexico's Jun Alejo, ranked no. 8, at the StubHub Center in Carson, California under ALA Promotions' Pinoy Pride 33.

Nietes, 33, outpointed Mexican Francisco Rodriguez, Jr. in their 12-round bout in Cebu last July to retain the WBO and The Ring light flyweight titles. He is the longest reigning Filipino world boxing champion, eclipsing the record of the late Gabriel "Flash" Elorde, with a 21-fight winning streak in six years.

Nietes, who hails from Murcia, Negros Occidental, owns a 36-1-4 (win-loss-draw) record, including 21 knockouts. Nietes said he is confident of adding Alejo to his list of victims.

Other Filipino fighters vying in the US fight card, presented by The Filipino Channel, ALA International and ABS-CBN Sports and Action, are "Prince" Albert Pagara, Mark "Magnifico" Magsayo and Jayson "El Niño" Pagara.
The Pagara brothers and Magsayo are training at the Wild Card gym under Freddie Roach.

Nietes considers his upcoming US bout as the most important fight of his career, this being his first time to fight there.

"I've trained in the US for several years but I never really got to fight there. So it will be important for me because the world will finally get to know how I really fight," said Nietes.

Viloria will try to snatch the flyweight world crown from Gonzalez, one of the top pound-for-pound fighters in the world, will make his third title defense on Oct. 17.

The fight under the K2 Promotions and Teiken Promotions will be a co-feature on the HBO PPV-televised undercard of the middleweight title unification bout between Gennady Golovkin (33-0, 30 KO) and David Lemieux (34-2, 31 KOs).

"I know Brian Viloria is a great [former] champion and it will be a hard fight, but I am ready for the challenge," Gonzalez said.
"I have faith that God will give me the strength to keep training and be able to give all my fans my best fight ever."

The 28-year-old Gonzalez, a former junior flyweight and strawweight champion before vacating those titles to move up in weight, was a big hit in his last fight when he made his HBO debut -- his first wide American television exposure -- on May 16 at the Forum in Inglewood, California. He violently blew away former junior flyweight titlist Edgar Sosa in the second round on the undercard of Golovkin's title defense against Willie Monroe.

The promoters and HBO liked the pairing of Golovkin and Gonzalez, both exciting punchers, and wanted to do it again.